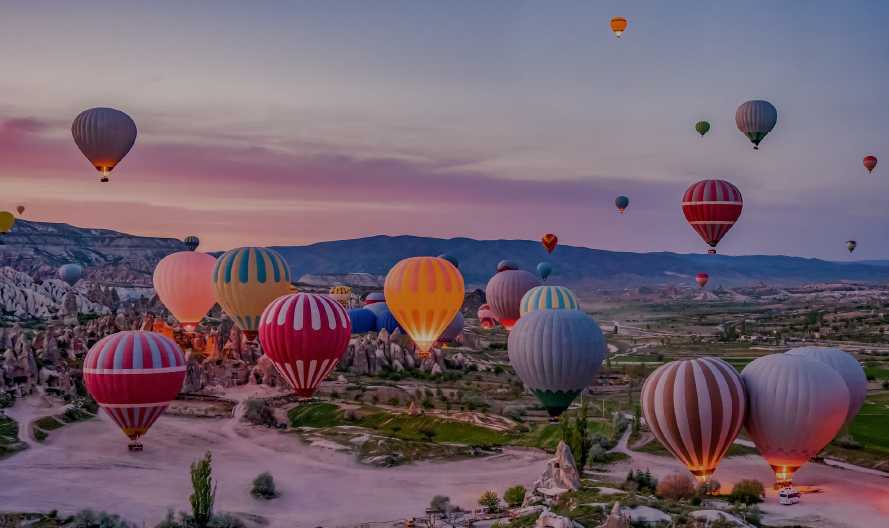 Experience the adventure of a lifetime with our unforgettable Hot Air Balloon Ride in the Atlas Mountains. Departing from Marrakech, this unique journey offers breathtaking panoramic views as you soar above the stunning landscapes of the Atlas Mountains.

Marvel at the awe-inspiring natural beauty from a bird's-eye perspective during your Hot Air Balloon Ride in the Atlas Mountains. After the exhilarating ride, savor a delicious Berber breakfast, immersing yourself in local flavors and hospitality. But the adventure doesn't end there – enhance your experience with a Desert Camel Experience, where you'll connect with the spirit of the Sahara on a camel ride.

Don't miss this extraordinary opportunity to combine the thrill of a Hot Air Balloon Ride in the Atlas Mountains with authentic cultural experiences. Book your adventure now for a truly unforgettable journey. Here is a proposed itineray for a day tour for a Hot Air Balloon Ride in Atlas Mountains:

Early Morning Departure:
- Begin your adventure with an early morning departure from Marrakech to the picturesque Atlas Mountains.

Hot Air Balloon Ride:
- Experience the thrill of a hot air balloon ride over the stunning Atlas Mountains. Soar high above the landscapes and take in panoramic views that will leave you awe-inspired.

Berber Breakfast:
- After your exhilarating hot air balloon ride, indulge in a delicious Berber breakfast amidst the natural beauty of the mountains.
Savor traditional flavors and local delicacies while surrounded by breathtaking scenery.

Desert Camel Experience:
- Embark on a unique desert camel experience. Ride these gentle creatures as you traverse the desert landscapes, creating memories that will stay with you forever.

Cultural Immersion:
- Throughout the journey, immerse yourself in the rich Berber culture. Engage with local communities, learn about their traditions, and gain insights into their way of life.

Scenic Views:
- Capture stunning photos of the rugged landscapes, lush valleys, and rolling hills of the Atlas Mountains. Let the beauty of the surroundings take your breath away.

Professional Guides:
Enjoy the company of experienced guides who will share their knowledge of the region, ensuring a safe and enriching experience.

Return to Marrakech:
- As the day comes to a close, return to Marrakech with memories of a once-in-a-lifetime adventure etched in your mind.

Unforgettable Moments:
- This Atlas Mountains Hot Air Balloon Ride from Marrakech with Berber Breakfast and Desert Camel Experience promises unforgettable moments that blend nature, culture, and adventure seamlessly.

- Don't miss out on this extraordinary journey. Book your Atlas Mountains Hot Air Balloon Ride today and create lasting memories of your Moroccan escapade.

Note: The itinerary can be customized based on your preferences and the availability of activities. Enjoy your honeymoon to the fullest!

Enjoy your trip! ❤️
We are ready to provide you with an amazing travel experience! Please send your Enquiry to us! get a quote now.