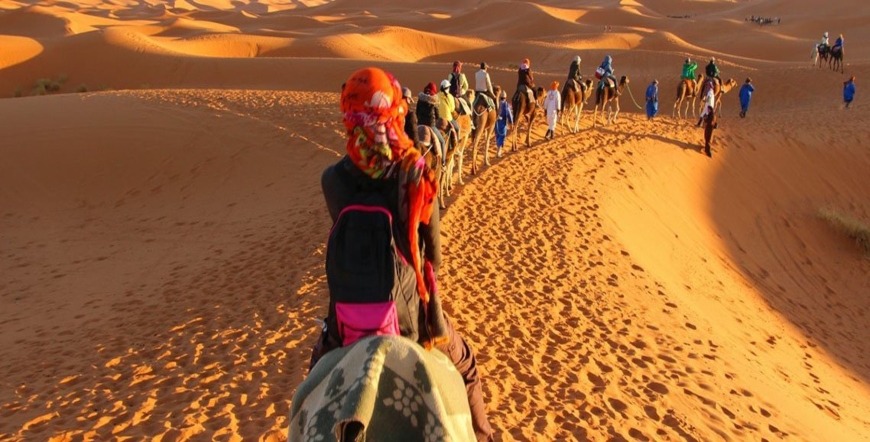 Embark on an extraordinary adventure with our meticulously curated 3-day trip package to the Sahara Desert from Marrakech. Immerse yourself in the breathtaking landscapes as you journey through Tinghir City and Merzouga, two gems nestled along this remarkable route.
Our trip package to the Sahara Desert from Marrakech offers an unparalleled opportunity to explore the captivating Tinghir Oasis with a knowledgeable local guide. Delight in the awe-inspiring vistas of the Gargantas del Todra and immerse yourself in the cultural richness of the Todra Gorges, all while experiencing the magic of the Sahara's iconic Erg Chebbi dunes.

Your unforgettable desert escape includes camel rides during both sunset and sunrise, complemented by delightful dinners, enchanting ambiance music, and overnight stays in Merzouga. This exceptional 3-day trip package to the Sahara Desert from Marrakech ensures that you uncover the soul-stirring allure of Morocco's most iconic desert landscapes. Don't miss this chance to make memories that will last a lifetime. Book your trip package now and let the Sahara's wonders unfold before you! Here is a proposed itinerary for your 3 days trip package to Sahara Desert through Tinghir City and Merzouga:

Day 1: Marrakech to Tinghir City
- Journey through the stunning High Atlas Mountains.
- Explore the renowned Ait Ben Haddou, a UNESCO World Heritage site.
- Visit the captivating Kasbah of Ait Ben Haddou.
- Discover Ouarzazate, with an optional visit to the Kasbah of Taourirte and cinema studios.

Day 2: Tinghir City to Merzouga
- Guided exploration of Tinghir Oasis.
- Experience the breathtaking Gargantas del Todra.
- Visit the impressive Todra Gorges with a local guide.
- Venture to Erg Chebbi, famous for its dunes.
- Enjoy a camel ride during the sunset, followed by dinner, music, and an overnight stay in Merzouga.

Day 3: Merzouga – Marrakech
- Camel ride in the sunrise over the Erg Chebbi dunes.
- Breakfast at the auberge in Merzouga.
- Proceed towards Ouarzazate.
- Pause for a stop in Ouarzazate, known as the "Gateway to the Desert.

Note: The itinerary can be customized based on your preferences and the availability of activities. Enjoy your trip to the fullest!

Enjoy your trip! ❤️
We are ready to provide you with an amazing travel experience! Please send your Enquiry to us! get a quote now.